ClickHouse Database Installation for Nectus Netflow & Syslog Storage
Requirements:
Ubuntu Server 18.04.2 LTS (with SSH access)
NOTE: Although ClickHouse can be installed on several different flavors of Linux, Ubuntu Server 16.04 & 18.04 are the only supported Linux distributions for Nectus at this point.
More information about installation on other OS's can be found here: https://clickhouse.yandex/docs/en/getting_started/
Step 1
Import the public key:
sudo -E apt-key adv –keyserver hkp://keyserver.ubuntu.com:80 –recv-keys C8F1E19FE0C56BD4
NOTE: It is recommended to import the public key if it's a fresh Ubuntu install.
Otherwise you may get the following error when adding the repository:
GPG error: http://repo.yandex.ru/clickhouse/deb/stable main/ Release: The following signatures couldn't be verified because the public key is not available: NO_PUBKEY C8F1E19FE0C56BD4

Optional commands to run:
sudo apt-get install dirmngr # optional
sudo apt-key adv –keyserver hkp://keyserver.ubuntu.com:80 –recv E0C56BD4 # optional
Step 2
Create Clickhouse repository:
sudo apt-add-repository "deb http://repo.yandex.ru/clickhouse/deb/stable/ main/"

Please edit the sources.list file if you receive the following error:
" E: Malformed entry 55 in list file /etc/apt/sources.list"
Delete the entry XX and save/exit the file. Perform the update (and upgrade if you wish):
sudo apt update && sudo apt upgrade
Step 3
Get the packages list for the latest updates and the dependencies:
sudo apt-get update

Step 4
Download and Install the ClickHouse packages:
sudo apt-get install clickhouse-server-common clickhouse-client -y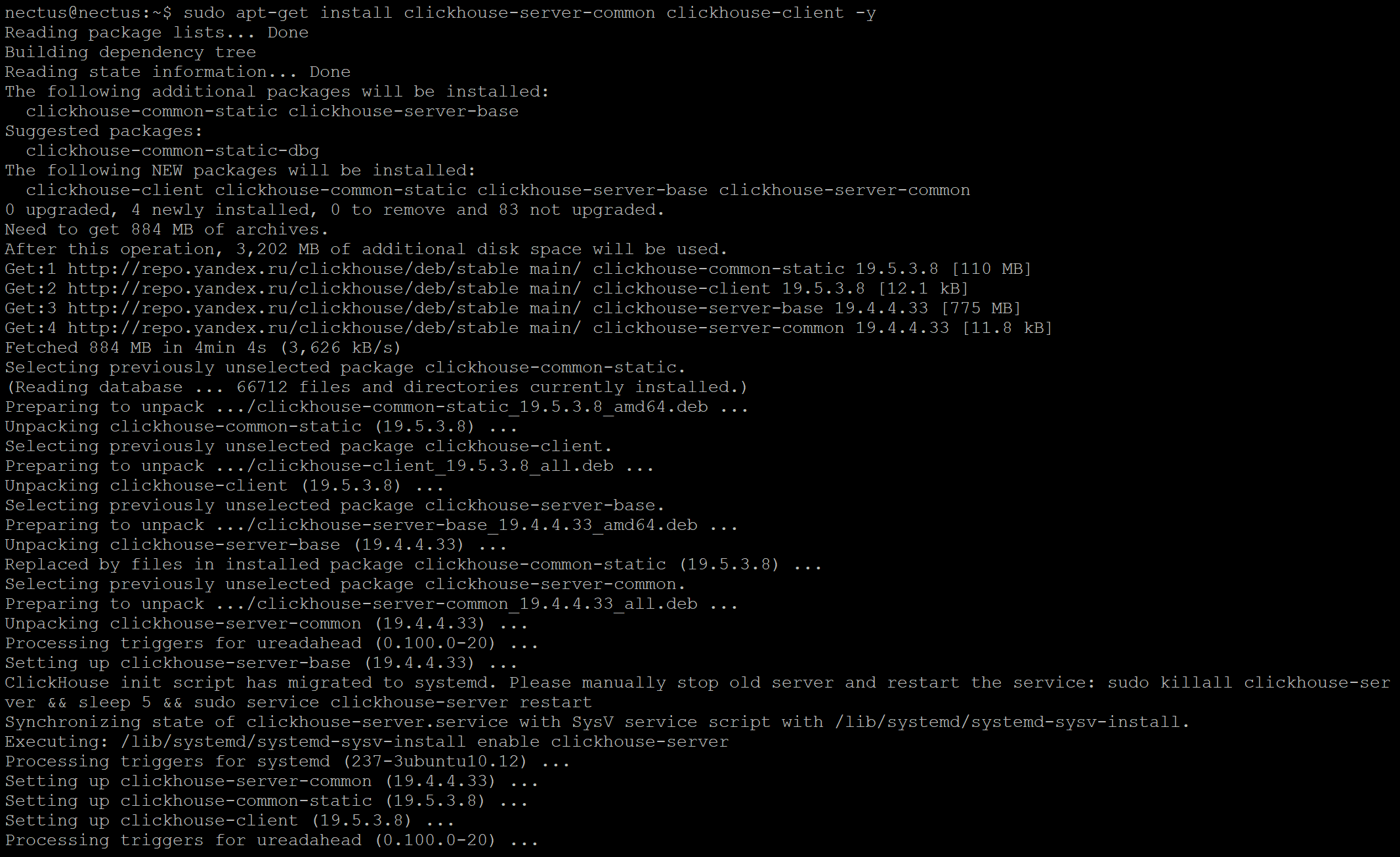 NOTE: Make sure everything is installed without errors. Please run the following command if there are any errors related to an "unauthenticated package":
sudo apt-get –allow-unauthenticated install clickhouse-server-common clickhouse-client -y
Step 5
Start the Clickhouse server as a daemon:
sudo service clickhouse-server start

Step 6
Now that we have installed the ClickHouse, it is time to test:
NOTE: TCP ports 8123 & 9000 must be open.
Start the Client:
clickhouse-client

Step 7
Create the Netflow/Syslog database.
In this example we are creating the netflow database named NETFLOW (database name is arbitrary):
clickhouse-client
create database NETFLOW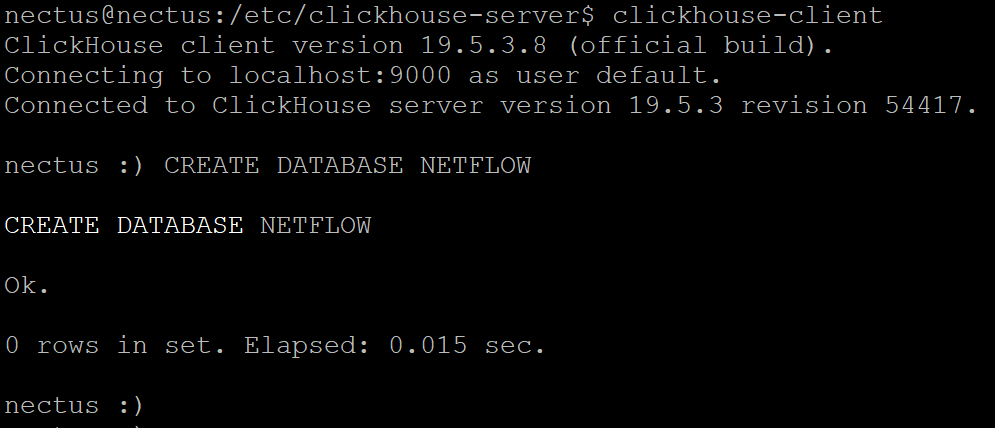 Step 8
We will now add the Clickhouse internal user "root" with password "nectus" to the Users.xml file located at: /etc/clickhouse-server/users.xml
NOTE: Paste the snippet of the code below starting at line 31 after "<users>" in the users.xml file. You can use vi or nano text editor to edit the file. WinSCP can also be used to accomplish this task. Use the file change owner command if needed "sudo chown -R xxxx users.xml", where "xxxx" is the user that will take over the ownership of the file.

<root>
<password>nectus</password>
<networks incl="networks" replace="replace">
<ip>::/0</ip>
</networks>
<profile>default</profile>
<quota>default</quota>
</root>

Save the file and exit.
Step 9
Restart the ClickHouse Server:
clickhouse-server restart

Step 10
Now that the ClickHouse Server has been restarted, we can start the ClickHouse client using the internal user that we created in step 8:
clickhouse-client –user default –password nectus

Step 11
We have completed the ClickHouse installation. This last step requires login to Nectus to finish the Netflow/Syslog integration.
Open to "Nectus Settings -> General Settings -> Netflow Integration" page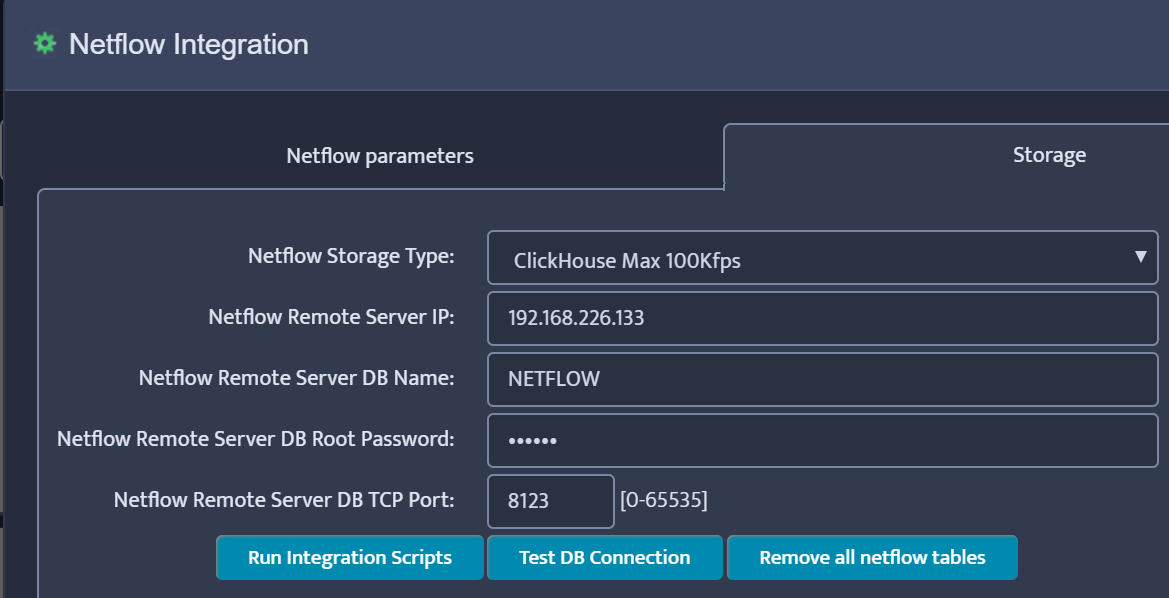 Enter the required information and click Test DB Connection (Remote Server IP is the IP address of the Ubuntu/ClickHouse server). The result should be "Test DB Connection OK"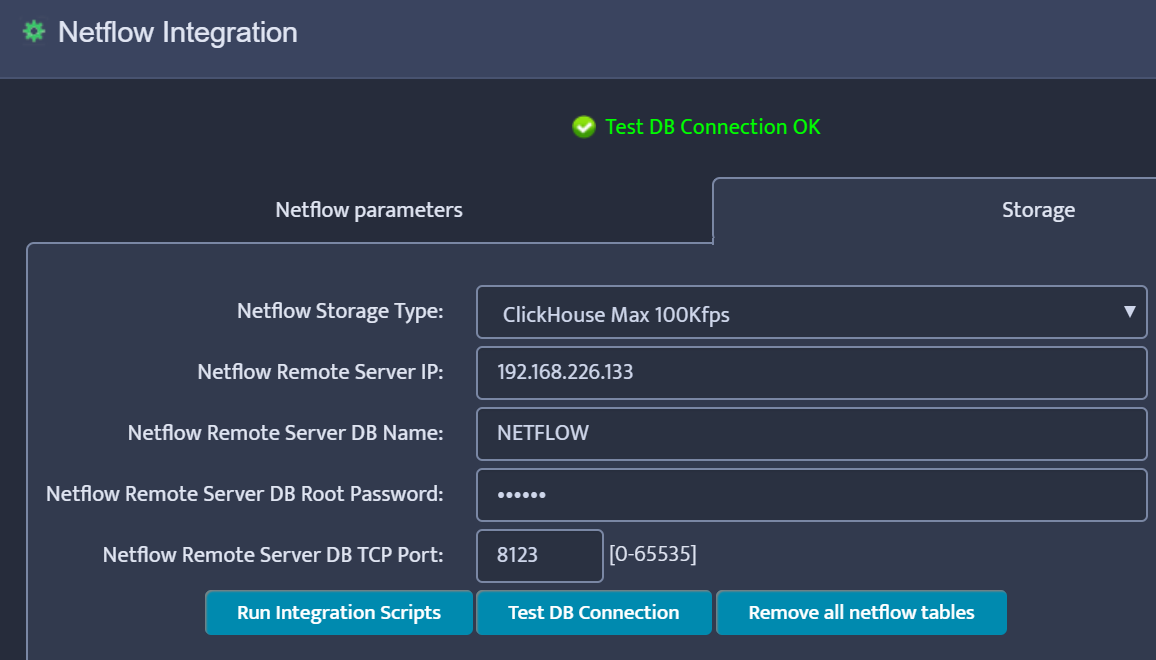 Click "Run Integration Scripts" and finally Save.
Step 12
Restart Nectus NetFlow and Syslog Services.
https://www.nectus5.com/wp/wp-content/uploads/2018/02/logo.png
0
0
Web Master
https://www.nectus5.com/wp/wp-content/uploads/2018/02/logo.png
Web Master
2019-04-23 22:14:09
2019-04-23 22:14:29
ClickHouse DB Installation for Nectus Netflow & Syslog Storage