Nectus release 1.60 includes with a new VMware monitoring module.
Nectus can monitor following VMware infrastructure elements:
vCenter servers
ESX Hosts
Datastores
Virtual Machines
Nectus can monitor and alert on following  metrics for all elements:
ICMP Availability and Latency
CPU utilization
RAM utilization
Storage free space availabilty
Disk Read/Write rates
Disk I/O Transactions rate
Disk Average and Max Latency
Network Rx/Tx throughput rates
VM Status (Power,  Heartbeat, Connection)
To set up VMware monitoring go to Inventory/VMware/vCenters (as shown in the picture).
The following page will open. On this page you can create new vCenters groups, edit their settings, delete groups. Create at least one group to be able to add vCenter servers.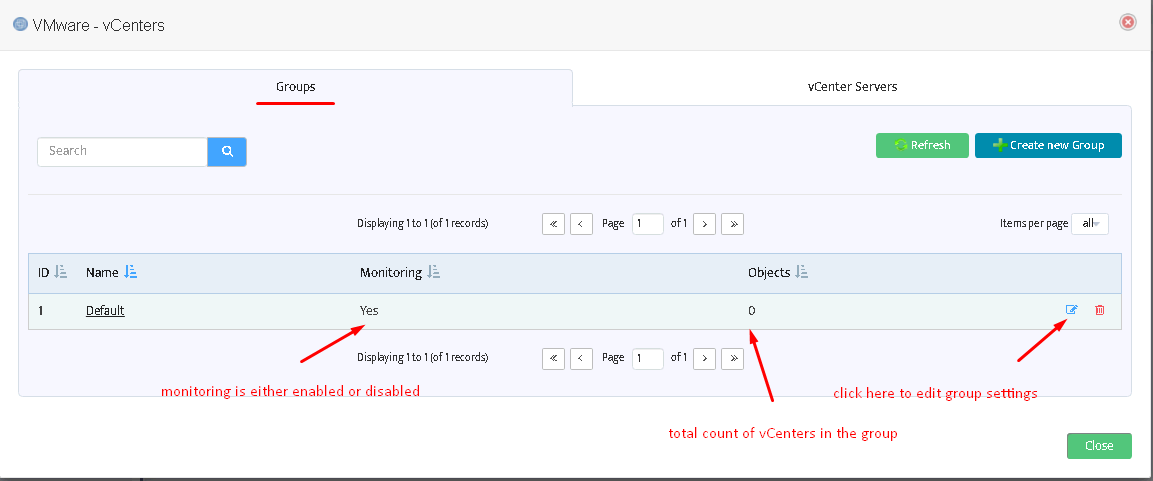 After pressing "Edit" button you will see the form as shown in the picture on the right. Here you can enable/disable monitoring for entire group, select an appropriate ICMP monitoring profile, assign email and SMS lists for alerts.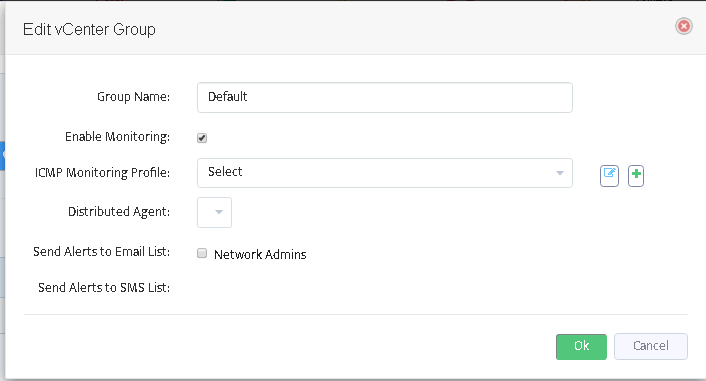 Switch to the next tab of "VMware – vCenters" form to add/remove VMware vCenter servers.

The following window will appear after pressing "Add" button.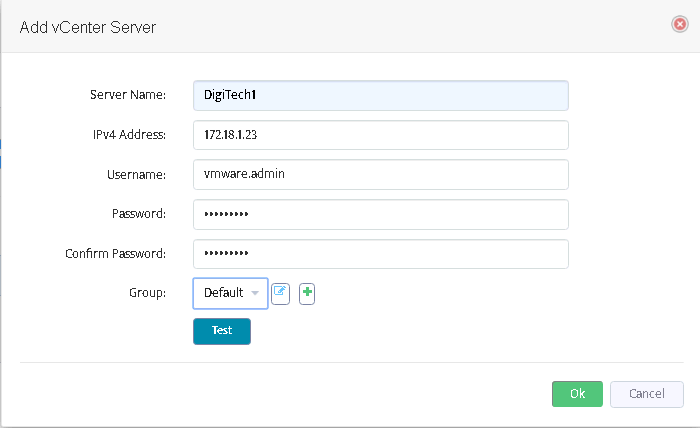 Fill out the fields here. The field "Server name" does not affect functioning and may be assigned to any value you like.
Username/Password must represent a valid VMware vCenter account.
Use "Test" button to check if the connection to vCenter may be established using the credentials provided.
After adding all desired vCenters you will see them on the list: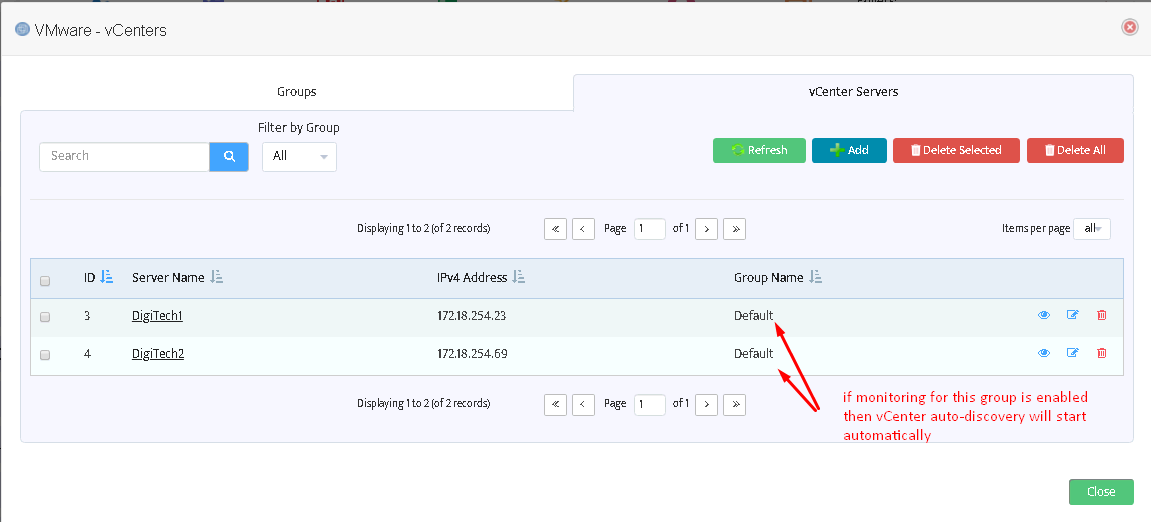 Managing VMware infrastructure
After configuring VMware groups and adding one or more vCenter servers the discovery of VMware infrastructure will start automatically.
You do not need to add ESX hosts, Datastores and Virtual machines manually.
Wait one or two monitoring cycles (5-10 minutes) for VMware entities to appear.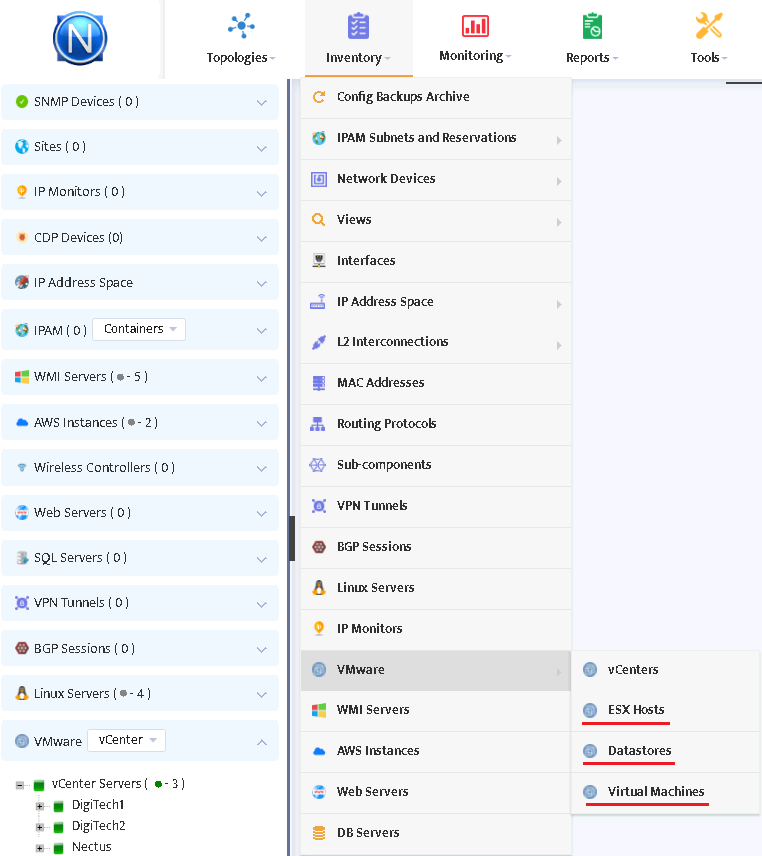 The discovered entities will appear in the Inventory:
After clicking "ESX hosts" you will see the following window displaying ESX host groups: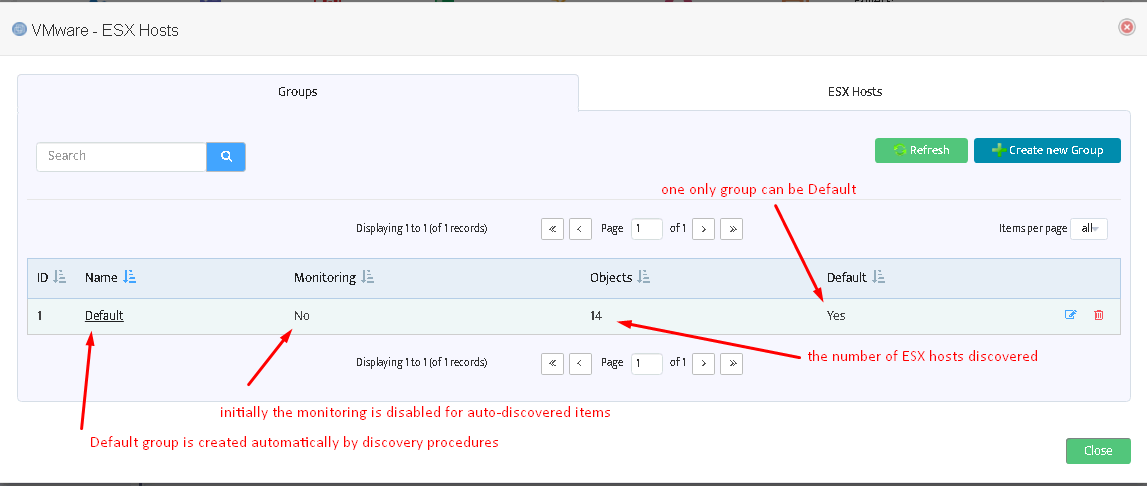 You can add more groups here (see picture below) or enable monitoring for the Default group.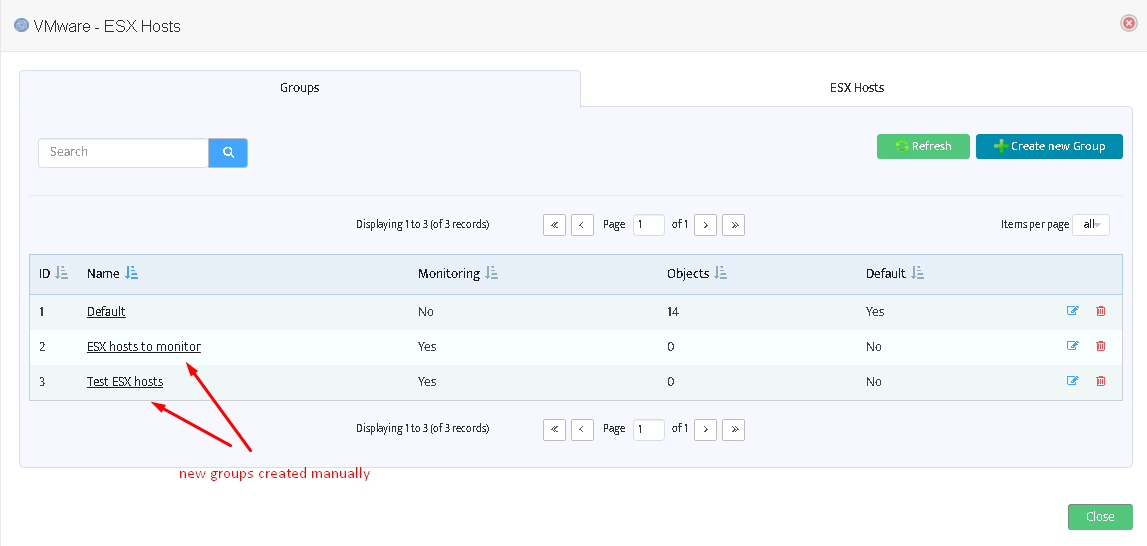 If you move to the tab "ESX hosts" you can see the list of discovered items: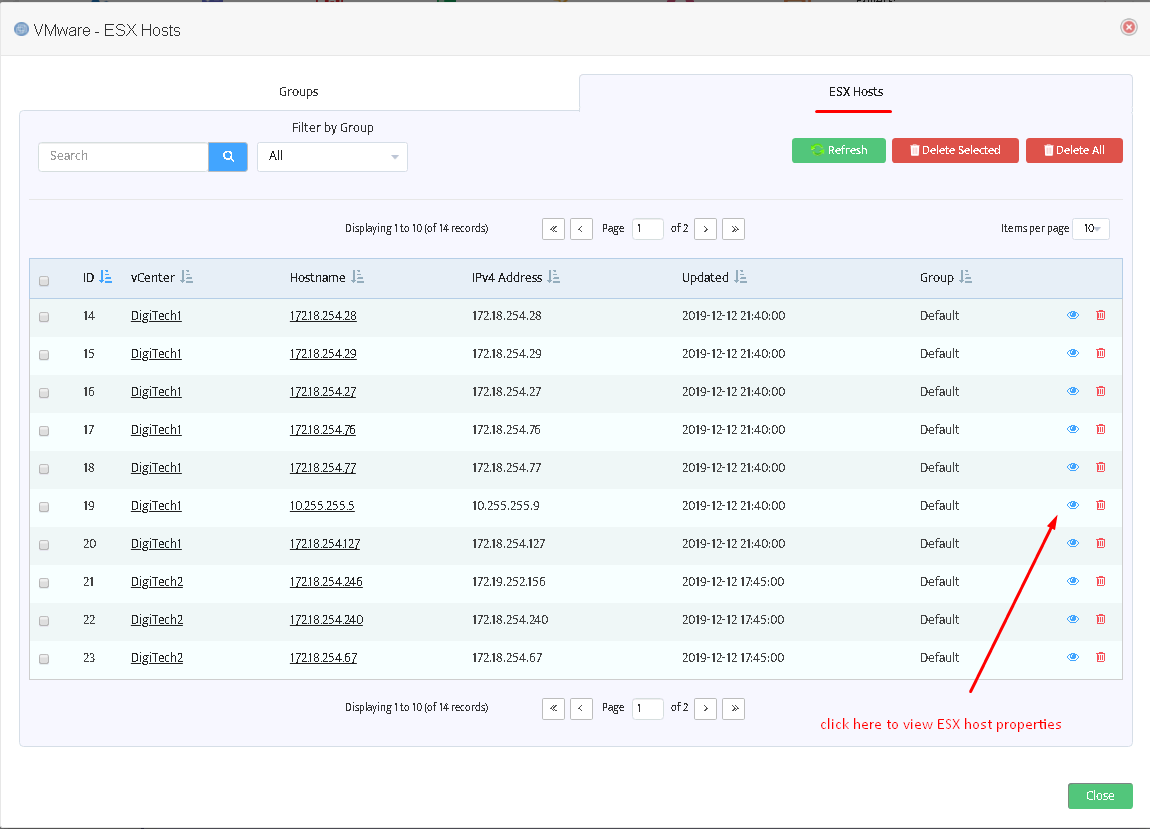 Warning: it is not possible to delete a non-empty group.
This applies to Datastores and Virtual Machines as well.
Discovered entities will also appear in the left tree of Nectus GUI.
To move an ESX host to another group switch to Groups in VMware combo, right click on the desired host, choose "Move ESX Host to…" and select the appropriate group.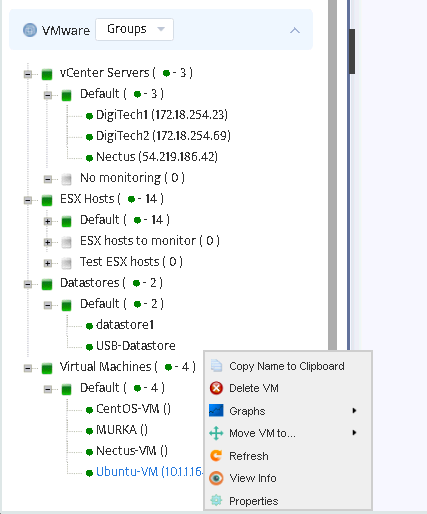 The same applies to other VMware entities: you can view properties, graphs for Datastores and Virtual machines,
move them to other groups either from the tree or from the Inventory/VMware menu.
However, creating new groups is only available at Inventory/VMware menu.
To set up metrics to monitor select Monitoring/VMware Monitoring Settings menu.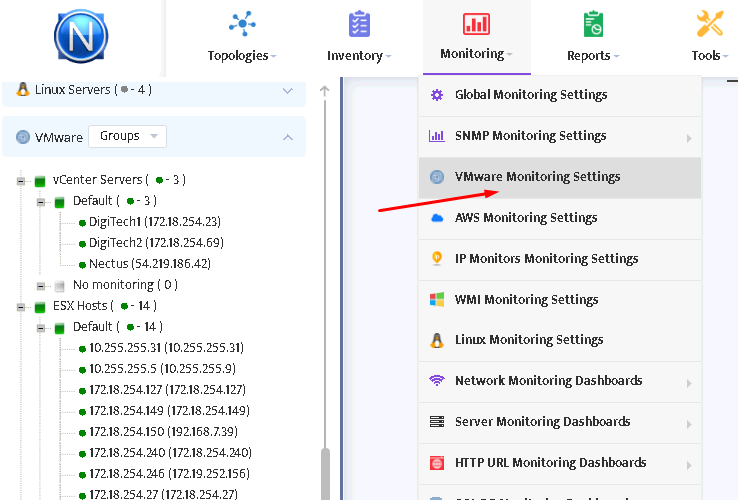 You will see the window as shown in the picture below.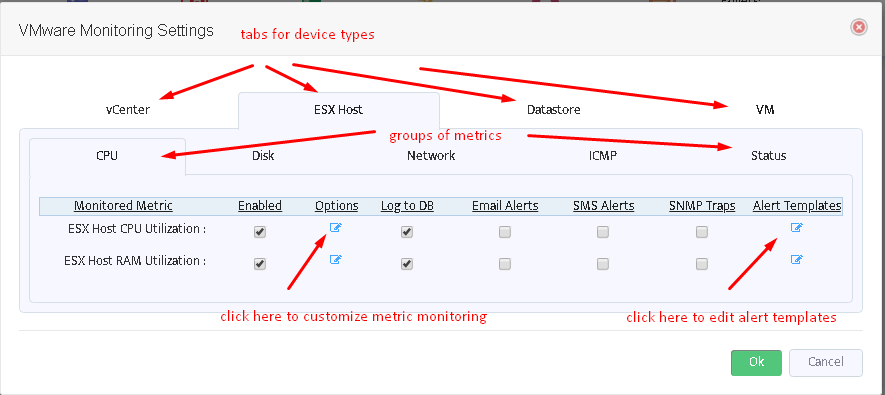 Switch between tabs of VMware devices and metric groups to enable/disable selected metrics, customize them (see picture below) or to edit alert message templates.
After you have configured the desired metrics, Nectus server will automatically load them and start to monitor.
https://www.nectus5.com/wp/wp-content/uploads/2018/02/logo.png
0
0
Web Master
https://www.nectus5.com/wp/wp-content/uploads/2018/02/logo.png
Web Master
2019-12-31 18:40:05
2019-12-31 18:40:09
Configuring VMware monitoring