Suppression of Frequent Identical Alerts In Nectus
Often when a network device or interface changes its state between Up and Down multiple times in a short time interval, numerous identical alerts will be sent to all the configured alert recipients.
Nectus offers the ability to suppress frequent identical alerts to reduce informational noise level by specifying a suppression timer for up to three hours.
Nectus calculates a CRC hash value from each of the email alert bodies and if hash values of two alerts are matching they are considered to be identical and can be suppressed.
Nectus excludes event timer values and specific metric values from hash calculation logic. You can configure the suppression timer from 0 to 180 minutes where 0 means no suppression.
To configure the suppression timer, go to    Monitoring -> Global Monitoring Settings

Under Monitoring Settings, select the Alerts tab.
To enable suppression specify a time interval from 1 to 180 minutes.
At the end of the time interval, alert logic will resume as normal.
Setting timer to 0 will disable the suppression.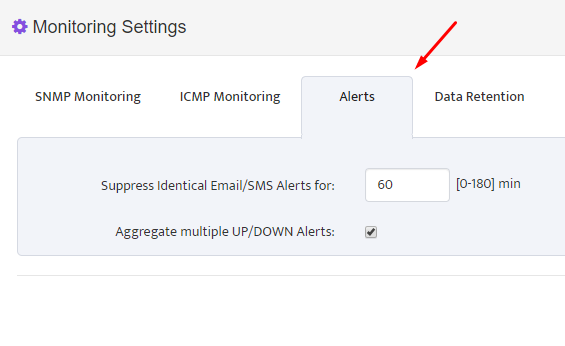 https://www.nectus5.com/wp/wp-content/uploads/2018/02/logo.png
0
0
Web Master
https://www.nectus5.com/wp/wp-content/uploads/2018/02/logo.png
Web Master
2019-04-03 19:13:13
2019-04-03 19:13:13
Suppression of Frequent Identical Alerts In Nectus